University Alumni Centres of the Czech Republic gathering at VŠE

On Monday 12 September 2022 the first personal meeting of the University Alumni Centres of the Czech Republic organised by the Alumni Centre VŠE took place. Aim of the meeting was to exchange know-how and to share the best practices within alumni agenda. The universities in the Czech Republic, including VŠE, are aware of the importance of maintaining good relationships with alumni and they want to further educate themselves in this area. The event took place at the University of Economics and Business in Prague, with some colleagues from more distant universities joining online at the same time.
The gathering was introduced by the head of the Alumni Centre VŠE, Ing. Lucie Böhmová, Ph.D., who welcomed everyone to the new semester. Then she gave the floor to the first presenter, Mgr. Zuzana Kullová, coordinator of the alumni relations at Palacký University Olomouc.  Mrs. Kullová introduced her alumni agenda, including the ABSOLVENT program established in 2014 and the Alumni Card providing alumni with a wide range of benefits. The University takes care of alumni by organizing meetings, lectures and other activities as well.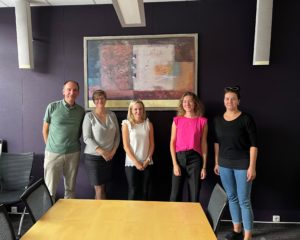 The following presentation was held by Ing. Hana Záhorovská from the Job Centre at Tomas Bata University in Zlín. The TBU Alumni Club was established recently in 2020 and since this year the number of members has been significantly increasing every year, especially thanks to the well-set registration process. Mrs. Záhorovská described this process in more details, the Job Centre itself and the benefits provided to alumni. The Alumni Club's future plans include expanding the alumni actvities such as opening the mentoring program.
As the participants were interested in work of their colleagues from the other universities, a lively discussion followed the presentations. Topics discussed included GDPR and the process of welcoming new members to the alumni clubs, different ways of communication and collaboration with the universities, or the possible implementation of ALIVE ALUMNI digital ID cards. The University Alumni Centres of the Czech Republic group was initiated by VŠE in November 2021 and so far three online meetings have been held. We are therefore delighted to be able to organize a personal gatherings from now on and inspire each other in this way.
Alumni Centre VŠE