Conference of University Alumni Centers in the Czech Republic and Slovakia
On September 13, 2023, the Conference of University Alumni Centers in the Czech Republic and Slovakia took place at VŠE in Prague, organized by the VŠE Alumni Center. It was the second in-person meeting since the University Alumni Centers group was established, and it newly included representatives from universities in Slovakia. The main objective was to network, deepen, and start new friendly relationships across Alumni Centers. The conference provided an opportunity for sharing experiences, mutual inspiration, and exploring possibilities for the professional development of university graduates.
The opening speech was delivered by the Vice-Rector for Development and Corporate Relations, Doc. Ing. Ota Novotný, Ph.D., who acknowledged the work of alumni coordinators and emphasized that this collaboration is not about competition but rather an opportunity to share current needs, know-how, data, and research in the field of alumni engagement. Following, Ing. Mgr. Martin Rey, Director of Alumni & Corporate Relations at VŠE, under which the VŠE Alumni Center operates, outlined the functioning of VŠE ACR and called for collaboration among universities in various areas.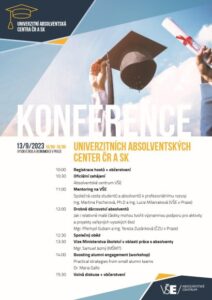 The rich program featured lectures by professionals from practice, interactive workshops, group discussions, and a Q&A session. During the first lecture, Ing. Martina Fisherová, Ph.D., from the Faculty of Business Administration at VŠE, shared her experience in mentoring. Next, Mgr. Přemysl Gubani, Head of the Career Center at the Czech University of Life Sciences in Prague, introduced participants to how small-scale alumni donations work at his university. After a shared lunch, there was a lecture on the topic of the Ministry of Education's vision for alumni engagement, presented by Mgr. Samuel Jezný, Head of the Department of Higher Education Policy Implementation. The program concluded with an interactive workshop led by Dr. Maria Gallo, a leading global expert in alumni engagement and author of "The Alumni Way," with over 20 years of experience in developing Alumni Centers worldwide. Dr. Gallo has been involved in the preparation of the International Conference on Alumni Relations (ICAR), which focuses on alumni engagement and will take place in Prague in June 2024. We are delighted that Dr. Maria Gallo accepted our invitation and prepared a workshop for conference participants on the topic of "Boosting Alumni Engagement," aimed at developing Alumni Centers within small teams.
Representatives of University Alumni Centers will continue to meet regularly in a virtual environment, including new members from Slovakia. We are pleased that we are continuously expanding the group and believe that future meetings will bring inspiration and valuable information to its members.