Alumni Wednesday: Strategy of Success not only in Business
On Wednesday 21 September, the first lecture of the winter semester 2022 took place within the framework of the Alumni Wednesdays project organised by the Alumni Centre VŠE in cooperation with the Faculty of Business Administration. An engaging presentation on the topic "Strategy of Success not only in Business" was presented by Ing. Simona Kijonková, founder of the successful company "Zásilkovna".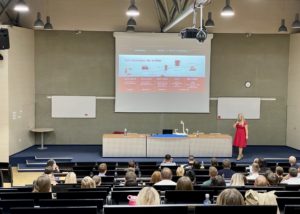 Mrs. Kijonková, the first lady of e-commerce in the Czech Republic, has been running an international logistics company with a turnover of CZK 2.5 billion since 2010. She is currently in charge of the Packeta holding, group of 14 companies including Zásilkovna, and manages more than 1,500 employees. She has won numerous awards for her work, became EY Entrepreneur of the Year 2017 and came in second place of the Economia's TOP Businesswoman 2020. For many years, she has topped the Forbes Most Influential Women list.
During her lecture, Mrs. Kijonková presented her "recipe" for how to be successful in both professional and personal life, implement big projects and ideas, live an extraordinary life to the fullest with a great impact on your surroundings, while maintaining peace of mind, finding time for hobbies and not burning out. The high attendance was due to the engaging topic and  the life story of one of the most influential businesswomen in the Czech Republic. More than 160 people attended the lecture in person and more than 130 people connected online.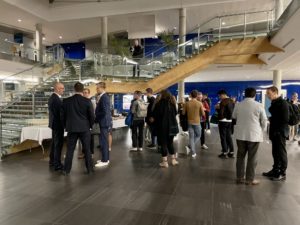 The presentation was followed by a long lively discussion and Mrs. Kijonková was answering the questions with interest and willingness. At the end, the participants had the opportunity to enjoy a a buffet with refreshments and to discuss their impressions from the lecture within informal way of networking.