Alumni Wednesday: Refundable bottles aka we're pushing circularity to rev up (CZ) /16. 3./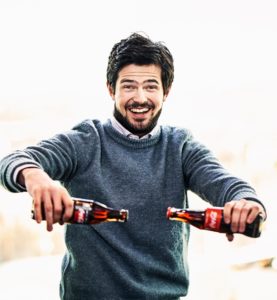 We invite you to join us for a hybrid lecture (present/online participation) on the 16 of March at 6 pm within the project of Alumni Wednesdays. The topic of the lecture is "Refundable bottles aka we're pushing circularity to rev up" and will be presented by Ing. Ladislav Jelen**, alumni of the Faculty of Management and a CSR & Community Manager at Coca-Cola HBS CZ&SK. The lecture will be presented by the dean doc. Ing. Vladislav Bína Ph.D (online). This event is organized by the Alumni Center VŠE. An unformal gathering with a small reception will be taking place after the event.
When: Wednesday March 16, at 6 pm
Where: personally in the room RB 211 at VŠE / online through the MS Teams
You need to register here for this event for free.
Focus of this lecture: How does packaging fit into often mentioned corporate attempt at carbon neutrality? Why are deposits for packaging such a popular topic? Do we really need to change anything here? How are the newly introduced plastic bottle and can deposits working in Slovakia? We will discuss this and so much more using the insight into one of the key topics of Coca-Cola HBC's ESG strategy. The follow-up discussion can be extended to other topics about carbon neutrality.
More about the project at Alumni Wednesday's website.
We are looking forward to the meeting!
**Medallion Ing. Ladislav Jelen
I am a proud graduate of GaSOŠE Sedlčany and VŠE Prague. I started my career as a Trainee. Through this position I got to experience the environment of a multinational FMCG company and the agenda of the PA&C department. I coordinated entrusted CSR activities and built a new company website. At the position of Internal Communication Specialist, I tried the administration of all the communication channels used. As an EVP Specialist, I worked with the Employer Branding strategy and coordinated campaigns. As an OD Manager, I added Engagement, Onboarding and connecting managers to my agenda. I am now back again dedicated to CSR and communities.